I'm not very happy right now because an online 'Which Mean Girls Character are you?' Quiz told me I was most like Gretchen Weiners. You can imagine what I'm feeling.
I know I'm like the millionth person to blog about it but the Chanel Couture SS14 collection is 'lyke totally amazing' omgg srsly its 2die4. I'm not usually one to talk about big designer collections, because they're barely on your radar when you're a broke 15 year old who would probably die from the horribly intimidating experience of even looking through a Chanel shop-window.
So I will remain safe behind my laptop screen in my hideously unfashionable pyjamas, away from the glaring eyes of so-called (pls dont h8 4 using this word) 'fashionistas'
(But you know what I mean: the type of snooty, perfectly presented fashion bloggers/desginers who probably wanted to hit Tavi Gevinson when she first went to Fashion Week, aged 14.)
Usually, runway make-up is totally unwearable in real life, it just looks pretty or dramatic on the catwalk, (let me remind you of Chanel SS14's paint splotches).
But however much hate I might get, I would srsly wear the 'silver under-eye look' that this collection displayed, because firstly, it's actually relatively simple to achieve when you have 0 make up skills, and also it looks super pretty without looking weird/over the top. Plus I can finally achieve snow queen/space goddess vibes. THANK U PETER PHILIPS. AND THANK U KARL.
The celestial, sea-anemone hair and the whole space-tech look is so beautiful, too, and it matched the feather crowns the models wore (ahem Cara). It made them look like pale glitter-angels. The delicacy of the shape and colours all looked so perfect together, while the black feathery pieces contrasted the white purity.
Also, I loved those tiny waisted two-piece-pastel-dress-things with the polo necks
(r u all luving my technical fashun knowledge)

and those beautiful sequined trainers, because they were pretty accessible as something I'd consider buying and wearing irl.
(Maybe without all dem sequins but ygm)
It all reminded me of ice and birds and snow flakes, because of the flowy, translucent sparkles on the cropped tops and skirts. Basically, I can't word how much I liked this collection because I am not a ---fashionista--- (Im gagging every time I say that word) and I can't describe the whole appearance and vibes but it's beautiful and lovely and would make me feel like a little radiant-pastel maiden if I had the luck to wear it.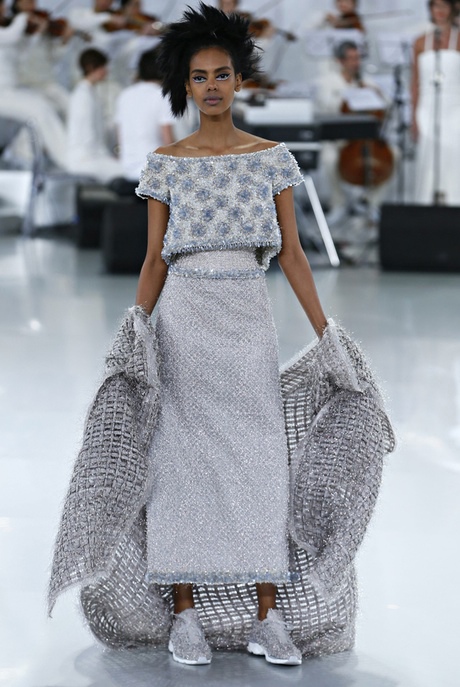 In conclusion, what I wanted to ask u all is: pls can we start a fund where u can all send me lots of money and I can rock up to my next school PE sesh dressed like this?